Tomas Slavik wins again at second round of Downmall Tour 2015!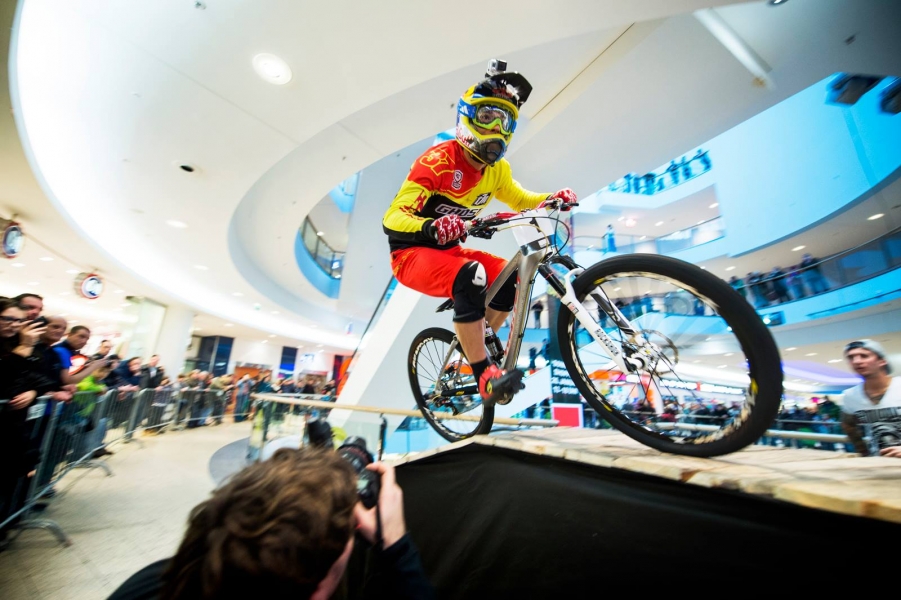 Tomas Slavik brought home another win from second round Downmall Tour 2015 Berlin, Germany. This result underlined his leading position in overall standings and he is coming to final round with quite good points lead. He is the biggest favourite for taking the win in Prague this week and taking the overall title as well.
"2nd round in Berlin was probably most difficult track I have been riding in shopping mall. Lot of stairs, 180 degrees turns, lot of stop and go sections. You really had to be precise and keep calm, beacause once you miss the braking point its all over for you. Every centimetr counts here! I got quite good rhythm and had a good run in final. Quite interesting was the bottom of the track during finals as we were really pushing it to the limit and we were landing the big drop almost flat. At the end it was me and Johannes Fischbach, who set up the fastest times and I got first by 0,3 s in front of Fischy! 3rd spot was gap a lot over 1 seconds. I would say really great performance by GHOST bikes guys. Next stop is final round this week in Prague. Really looking to racing on home soil and all the fans, its gonna be great weekend! See you there"
GoPro winning run Slavik, Berlin http://youtu.be/Z7APPInkovs
Final round of Downmall Tour 2015 is taking place in Prague this week. Not to miss it you can watch it live at FANDA TV or NOVA SPORT.
For more information follow social networks of Tomas Slavik:
www.tomasslavik
Photo credit: Jan Kasl
Photogallery
Videogallery