Unstoppable Tomáš Slavík wins JBC 4X Revelations again!!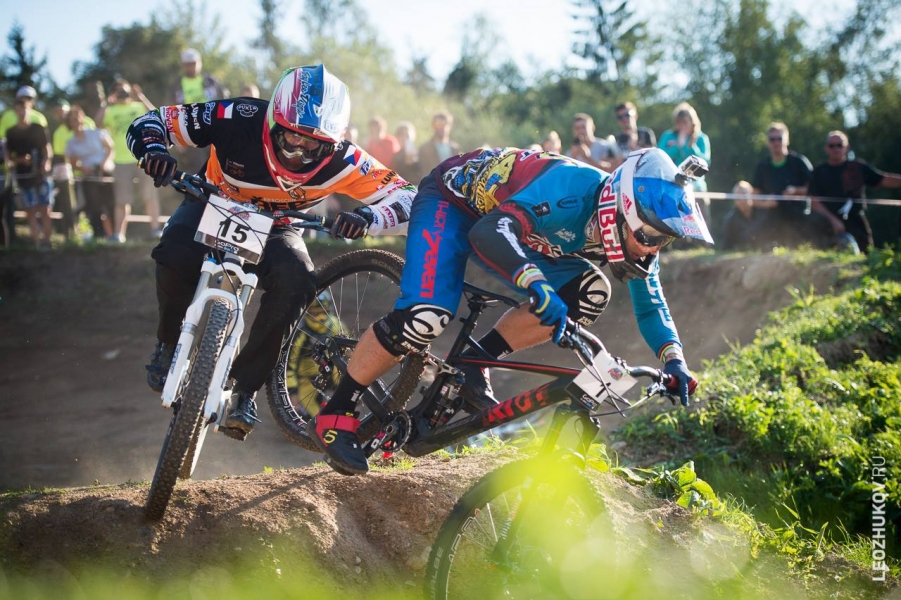 The biggest fourcross show in the world, most difficult track, best riders and huge crowd! That sounds like great fun, right?! It was! JBC 4X Revelations 2016 is in the books and it was legendary! Tomas Slavik was able to defend his title "King of Revelations" 4th time in row. With this epic win Slavik just became overall 4X Pro Tour world series champion in 2016 already before the last race in France!
" Revelations is always highlight of the season for me to be able to race on home track before the czech crowd. We really try to do this event right, to entertain spectators, riders and we are pushing it every year to another level. At the beginning we were fighting with weather a lot - in 2 days it rained like it didn't rain entire 2 months. Absolutely crazy! But when the sun came out on friday afternoon you could see already smiles on people faces and it was a new blood into our organization veins! Now about the race… I really pushed my qualification run and left everything on the track, it was a bit risky, but I took amazing lead of 3,6 seconds. Unreal! In the race I was feeling great and riding really solid, in the semi for some reason I have started to have cramps into my legs, but pushed myself and still made it work for the finals where I took the holeshot, had a sick run and took 4th win in row at JBC 4X Revelations! Afterwards I was barely standing, exhausted and when I saw Michal Kosik who was the first paralyzed person to make this track on his special bike I was almost crying. The crowd was screaming, hill was exploding and you could see everyone around happy! For me, for us, its such an engine to our effort and handwork. This atmosphere is always so exciting, specific and different to other events for me. Im glad that everyone enjoyed it and really looking forward to the next year already now :) Massive thanks goes to our organization crew and couldn't do this without you guys, we are such a great time and I'm so proud of you, so proud of us! Thanks to my family and friends for support! Thanks goes also to our sponsors who are helping us to building and creating our dreams! Thanks to all our fans who are standing behind us - you are the engine! You are the best and see you next year!! "
Videos:
Race reports:
Next event for Tomas is Crankworx Whistler where he will be fighting for overall title "King of Crankworx". For more info follow social media:
Photo by: Bara Berdychova, Leo Zhukov, MTB-News, Jan Kasl, Lukas Navratil, Tivek photo, AZ foto
Photogallery